BONOBO AT KEMBA LIVE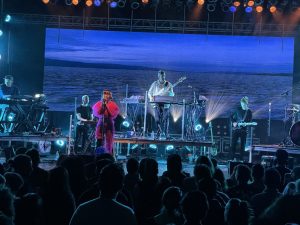 Band(s) – Electronica, Downtempo, Nu Jazz, Trip Hop, World Music
Bonobo (headliner)
Jordan Rakei (opener)
Date, Venue.
Feb. 20, 2022 at Kemba Live
Atmosphere.
Indoor show. Very cool, calm, and collect… and chill [The Four C's].
The Venue.
Kemba Live (f/m/a Express Live) is an indoor/outdoor multi-purpose concert venue located on the westside of the Arena District. The indoor concert seating capacity is ~2,300, while the outdoor seating capacity is ~5,200. The shows are predominately general admission, but seating is available for select shows, or on a limited basis. Enjoy Mikey's Late Nite Slice and a beer while visiting the venue! [when the Mikey's pizza bar is open]
The Band(s).
Jordan Rakei, the opener, is a New Zealand-Australian musician, singer, songwriter, and record producer. Jordan is a multi-instrumentalist and vocalist that would be classified as electronic jazz and hip-hop. Jordan often plays with an accompanying band but this show was a one-man gig with DJ equipment and keys. It was a very solid performance leading up to Bonobo.
Bonobo is the stage name of Simon Green, a British musician, producer, and DJ that first debuted in 1999. Bonobo does not play typical dance-club style music. It is not techo nor dubstep, which can feel obnoxious really quick, but rather easy listening and trance-like. It can be more consistently described as electronica downtempo, world music, and jazz. Downtempo being defined on wikipedia as "a broad category of electronic music characterized by an atmospheric sound and slow-tempo beats. Closely related to ambient music but with greater emphasis on beats, the style may be played in chillout clubs or as "warm-up or cool-down" music during a DJ set". I am not big into seeing DJs live, but Bonobo's music is recreated on stage by a full band. It is that 'live' sound that attracts me. After discovering the music is played by a live band, and watching a few YouTube videos, I just knew that I had to check it out in person. And am I glad that I did! The visuals were stunning and a perfect compliment to the soothing ambient music, which is built off of beats and samples. About forty five minutes through the set, I realized that my body had been in motion the entire time. I paused to looked around me and it was like a sea of bodies gently dancing and waving back and forth. Not a single person was motionless. This sort of fully engaged collective-experience was pretty awesome to witness. The night was very refreshing and somewhat cleansing of the soul. At least compared to what you may feel like coming out of your standard hard rock or metal show. I definitely look forward to chilling out with Bonobo again! Check out his new album, Fragments, to get a taste.
A few words to describe the show.
Wave-like. Trance-like. Soothing.
Would I see them again?
Absolutely.
Link(s)
Bonobo (headliner)
Jordan Rakei (opener)