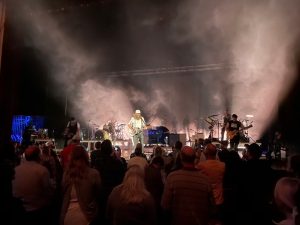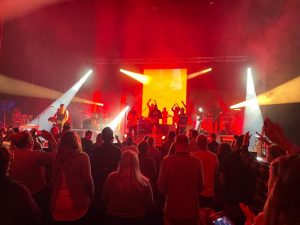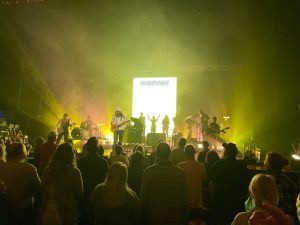 CROWDER AT THE PALACE
Out of 5
4.50
Band(s) – Christian Rock / Modern Worship / Folktronica / Bluegrass / Gospel / R&B
Sean Curran (opener)
Crowder (headliner)
Date, Venue.
Oct. 20, 2021 at The Palace Theater
Atmosphere.
Indoor show. Beautiful ambience of the historic palace theater, with a 'Crowd'…'errr'… that's ready to rock and worship [pun intended, best I could come up with].
The Venue.
The Palace Theater originally opened in 1926, and was purchased by the Columbus Association for the Performing Arts (CAPA) in 1989. Currently, the venue hosts the Columbus Symphony, Broadway Across America and other CAPA sponsored shows. The original architecture and design has been preserved, which gives the audience the sensation of walking into a piece of colorful history in downtown Columbus. Seating capacity is approximately 2,700 so there is no terrible seat in the house.
The Band(s).
Sean Curran. Unfortunately, we barely arrived in time to catch the last few songs from opener, Sean Curran – par for the course being the parents of a toddler. Although Sean's persona gives off a very youthful vibe, he is not a newbie to the music scene. He is a former member of the band, Bellarive, which had some success on the Christian Billboard Chart. What I gathered is that Sean's performance is very reminiscent of a modern-day worship band that completely rocks out the Saturday night service at a regional mega-church. That is definitely a compliment. Though, I would not go out of my way to see Sean headline, he is a great complement to Crowder.
Crowder was AWESOME, again. Yes, this was my fourth time seeing David Crowder. The first time I saw him was in 2010 during a random church attendance in Kansas City, MO. He was performing with the now defunct David Crowder Band, but the music really blew me away. Personally, I am not all that interested in 'praise and worship' but Crowder's music defies the typical Christian artist. Over the past decade, Crowder has successfully incorporated many genres in his music including, alternative, bluegrass, country, folktronica, R&B, indie, gospel, and now hip hop (with the recent release of their new album, Milk & Honey). David Crowder provides such powerful, crisp and clear lead vocals, that reach even higher levels when harmonizing with the band's backing vocalists. The refreshing part of a Crowder show is that you get nothing but positive and uplifting vibes, compared to a lot of other mainstream artists that focus more on heartache and the negative undertones to life. At a Crowder show, you'll jump, dance, sing, praise, chill and veg. You'll be completely at peace – whether you're a religious person or not. Crowder often explains that his goal is to provide the audience with the feeling that they're at a good ole' fashioned porch jam session and hoedown! It's a success – time and time (and time) again.
A few words to describe the show.
Powerful and Lot's of Praise.
Would I see them again?
I have seen Crowder a number of times… so yes.
Link(s)
Sean Curran
Crowder