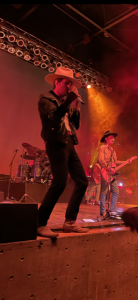 MIDLAND AT EXPRESS LIVE
Band(s) – Neotraditional Country / Texas Country
Wyatt McCubbin (opener)
Hailey Whitters (opener)
Midland (headliner)
Date, Venue.
Nov. 18, 2021 at Express Live
Atmosphere.
Indoor show. It's too cold in November for the lawn, so we resign to the indoor capacity of Express Live. It's no matter that we were indoors though. There were plenty of hats, and boots 'honky-stomping' the concrete floors throughout. Midland declared the evening to be a Friday night presented on a Thursday.
The Venue.
Express Live is an indoor/outdoor multi-purpose concert venue located on the westside of the Arena District. The indoor concert seating capacity is ~2,300, while the outdoor seating capacity is ~5,200. The shows are predominately general admission, but seating is available for select shows, or on a limited basis. Enjoy Mikey's Late Nite Slice and a beer while visiting the venue!
The Band(s).
Wyatt McCubbin, a native of Ohio, moved to Nashville and to become quite a successful singer and songwriter; writing songs for artists including Tracy Lawrence, Brent Cobb, John Schneider, Josh Ward, Jake Worthington, Drew Parker and others. Wyatt's set was short and only included an acoustic guitar and floor drum, but that was enough to capture the crowd and show off both his writing and performing skills. I really enjoyed the song "I'm Drinkin', She's Drivin'" and the one he wrote about legendary Willie Nelson (unfortunately, I can't find the track title).
Next up was Hailey Whitters and her band. Hailey is another midwest-to-Nashville transplant chasing down her dream as a country performing artist. She had written some notable songs for Little Big Town, Alan Jackson, and Lori McKenna, but her persistence is now finally paying off with her own album material. Hailey is bubbly, bursting with energy, and fun to watch, especially, when she gushes about her upbringings in a rural midwest city, Shueysville, Iowa, and her fondness for the "good ole boys" who raised her.
Midland headlined the bill last night. They are a smooth, somewhat sensual and postured, stylish country band, formed in 2016 and fronted by Mark Wystrach (lead vocals, guitar), Jess Carson (guitar, vocals), and Cameron Duddy (bass guitar, vocals). The musical style is considered to be Texas Country, or neotraditional country, and veers off from the mainstream pop country which seems to dominate the Nashville scene. Think outlaw country blended to suit the working man. Midland has had quite an impressive start in the country music industry in a relatively short period of time (which continues to include the ongoing pandemic). Their most notable songs are 'Burn Out 'and 'Drinkin Problem', which have both been nominated for music awards in recent years. Midland has their act together, and I'm not just referring to how polished they play live. They know who they are, and how to portray that to the thousands of fans who come out to see them. Billboard may have said it best when describing the band's sound as having "a definite George Strait '80s New Traditionalist feel to it, combined with the rich California harmonies that made The Eagles legendary." I do not get to see a lot of country shows here in Columbus, and it's not because I don't enjoy country music. I'm always on the lookout for a country act, but Columbus is not a good ole boys, pick up trucks, beer bottles, hats and boots kind of Midwest city. The city's younger, 'hip' crowd, is more focused on urbanization, innovation, and technology, and therefore the options are quite limited.  Midland put on a great show last night, and I anticipate them coming back again (and again). Check them out if they do… you'll have a good time. 
A few words to describe the show.
Sometimes all you need is a night of songs about drinking and country living to get you up off the floor and on your feet again!
Would I see them again?
Absolutely.
Link(s)
Wyatt McCubbin
Hailey Whitters
Midland