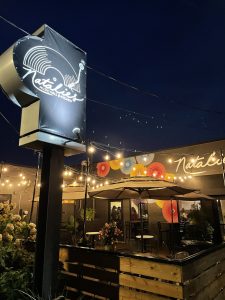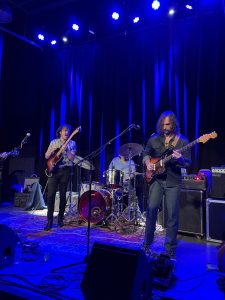 MO LOWDA AND THE HUMBLE
Out of Five
4.50
Band(s) – Indie/Alternative
Carriers (opener)
Mo Lowda and The Humble (headliner)
Date, Venue.
Oct. 3, 2021 at Natalies Coal Fired Pizza – Grandview
Atmosphere.
Indoor show. The crowd was predominately millennial, and undoubtedly soulful.
The Venue.
Natalies Coal Fired Pizza in Grandview is a concert venue that is somewhere in between The Basement and Express Live (indoors) in terms of size and sound. This was my first experience in the Grandview location, and color me impressed. Natalies continues to book incredible acts. My only disappointment was the lighting. It was a little too house light bright during the show and they didn't really ever change the backdrop color. Blue, blue and more blue.
The Band(s).
Carriers, the opening act from Cincinnati is no 'run of the mill' local opener. The band is part of good eye records. Curt Kiser, frontman and principal, has worked with an assortment of talent including Bryan Devendorf (The National) and John Curley (The Afghan Whigs) to bring the band to life. Carriers sound like a mashup of Radiohead and Band of Horses with Jeff Tweedy/Tom Petty sounding vocals.
Mo Lowda and The Humble were astonishing. Being unfamiliar with Mo Lowda, I googled them prior to the show and had a gut feeling they were going to put on a great performance. I was right, and it was better than I could have imagined. Once you very quickly get passed the initial vocal comparison to Kings of Leon, you begin to take in the intricacies and beauty of each song. Let me be clear… Mo Lowda definitely stands apart from Kings of Leon. Mo Lowda is led by energetic frontman (Jordan Caiola) with powerful vocals, memorable lyrics and chorus lines, and songwriting paralleled with the best of the best. The songs are made up of insane instrumental craftsmanship with haunting guitar riffs and bass lines that keep you saying 'WTF' (in a good way). Each song is skillfully crafted and intertwined with twists and turns and a fluctuating intensity. Jordan said to the crowd that he had been waiting a while to play a show like this for some time. To play to an attentive crowd. The crowd would be completely silent from one song to the next, patiently waiting to be taken back into an energetic trance. I call these types of shows 'pin drop' concerts. The type of concert where the crowd is so awestruck that you could hear a pin drop in between songs. I also really dig the fact that Jordan's appearance, at times, would remind of Nicolas Cage's titular character, H.I. McDonnough, in the movie classic Raising Arizona.
A few words to describe the show.
Intimate.
Would I see them again?
Absolutely. And I am grateful that I saw them in such an intimate setting.
Link(s)
Carriers
Mo Lowda and The Humble