Princess Goes To The Butterfly Museum (headliner)
Alternative/Indie, Progressive, Electronic Rock
Wednesday, July 27, 2022 at Skullys Music Diner
Originally to be held at The Athenaeum, the location was changed at the last minute to Skully's Music Diner in the Short North.
Skully's Music Diner is a mid-size venue located at 1151 N. High Street in the Short North District near the Ohio State campus. Skully's is a fairly intimate music venue with a capacity of 1,100 people. The music diner has become a staple in the Short North with over 20 years at this location. Although the venue is known more for DJs and dancing, it does host a number of high quality bands each year. Skully's has been the recipient of multiple local awards over the years for Best Dance Club and Best Mid-Size Music Venue.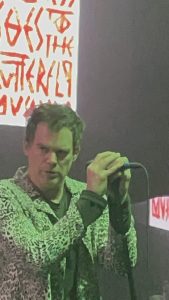 I hope that seeing Princess Goes To The Butterfly Museum (PGTTBM) is the closest that I will ever get to a serial killer. You are probably unaware that the PGTTBM frontman is none other than celebrity actor, Michael C. Hall. Hall is most widely known for his titular role as serial killer Dexter Morgan in the the Showtime drama, Dexter, and as David Fisher in the HBO drama series, Six Feet Under. Hall was chosen by David Bowie to star in his musical, Lazarus, as well as performing the lead role of Hedwig in the Broadway musical, Hedwig And The Angry Inch. In 2019, Hall formed PGTTBM alongside two fellow New Yorkers and former members of Hedwig And The Angry Inch, Peter Yanowitz (drums) and Matt Katz-Bohen (keyboards/bass). The band's debut album, Thanks For Coming, was released in 2021. In 2022, their most recognized song, Ketamine, was released as part of the soundtrack for the final season of Dexter, New Blood. The band first toured in Europe in 2021 and embarked on their first US tour in 2022.
Michael C. Hall has worked in television and broadway for his entire life, while both Yanowitz and Katz-Bohen have held lengthly and impressive music careers. Yanowitz was the original drummer for The Wallflowers and for Natalie Merchant on her first three solo albums. Katz-Bohen was a member of Blondie and has toured as a backing member for many popular artists including Boy George and Cyndi Lauper. It's no surprise the powerhouse trio is off to such an impressive start, even when considering they are doing so through a global pandemic.
PGTTBM is mostly a bass heavy, electronic, and distorted style of music which even when played perfectly can lend itself to some degree of audible confusion. That's not a bad thing, and I believe that it adds to the overall ambience and experience. It is LIVE music after all! PGTTBM does not fit neatly into any particular genre, and you can hear various styles ranging from David Bowie-esque, electronic dance, vintage 80's synth-pop, and face-melting psychedelic rock songs. Hall's vocals carry a haunting presence that neatly blends into a huge wall of electronic sound. The band's song arrangements are unique to say the least, something the band has admitted in public interviews. Each song can feel like an individual, distinct ride. Aside from the music, their stage show was fairly typical for a modern day rock band. Given their background in theater and a name like Princess Goes To The Butterfly Museum, I assumed there would be a lot more theatrics. Their catalog of online music videos do show how creative and visionary they can be with their music and art. Overall, their sound was very tight with very few noticeable flaws. Hall's vocals may have been off pitch at times, or the blend of sound occasionally appeared too cluttered, but these are all aspects of seeing live music. Honestly, these "flaws" were just as likely a result of the sound mix quality and/or my positioning to the speakers within the room.
Was I blown away? Yes and No. I honestly believe they are going to hone in on their sound and develop a bigger more impressive stage show over time. Right now it feels a bit new and somewhat scattered. It was very impressive Nevertheless (pun intended as this is a track title from their 2021 album). The highlight for me was the surreal feeling and emotions that I experienced while watching Michael C. Hall perform in front of me. Like many others in the crowd, I have spent countless hours in front of the television watching him portray David Fisher and Dexter Morgan. Don't get me wrong though. This is a real band that is going to be around for years to come. They are not a gimmick.
Would I see them again?
Absolutely. I would like to see them tour on the heels of a new album, and I hope they build a bigger and better stage show more visuals and theatrics.
Link(s)
Princess Goes To The Butterfly Museum (headliner)