Roger Waters  (headliner)
Psychedelic Rock/Space Rock/Progressive Rock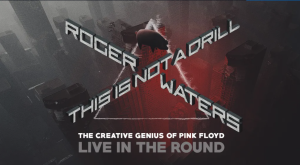 Wednesday, August 10, 2022 at Nationwide Arena
The Venue.
Nationwide Arena, the home of the Columbus Blue Jackets with a capacity of 20,000 fans, opens its doors to some major music acts throughout the year. Although built in 2000, it feels very modern and can handle the most demanding events. It's centered in the heart of the Arena District where you'll find dining and drink options, among other concert halls and a minor league baseball and a major league soccer stadium. The arena has a wide variety of food and drink options, including liquor stations and local and regional craft beers on tap.
Roger Waters and This Is Not A Drill Tour.
Let's start off by introducing Roger Waters. The 78 year old rocker is a co-founding member of the greatest Progressive Rock band of all time – PINK FLOYD. Pink Floyd is an English rock band founded in 1965 by Syd Barrett (leader, guitar, vocals), Roger Waters (bass, vocals), Nick Mason (drums), and Richard Wright (keyboard, vocals). Pink Floyd is one of the best selling artists of all time with more than 250,000 million records sold. There is a lot of history for Pink Floyd that I am not going to go into for this review. However, I encourage you to take some time to research the fascinating history of the band. It is important to know that Syd Barrett was ousted in 1968 due to psychedelic drug use and Roger Waters became the primary lyricist, conceptual artist and co-lead vocals until his departure in 1983. Roger Waters was instrumental (pun intended) in the concept albums: The Dark Side Of The Moon, Wish You Were Here, Animals, The Wall, and The Final Cut. Due to deteriorating relationships and legal issues, Roger Waters left the band and continued on as a solo artist (while continuing to have the rights to play Pink Floyd songs). Pink Floyd continued on with David Gilmour as the primary lyricist, vocalist and guitarist. Waters was inducted into the US Rock N Roll Hall of Fame in 1996 and the UK Hall of Fame in 2005. He staged one of the largest concerts of all time in 1990, performing The Wall – Live In Berlin. It is estimated there was a crowd of 350,000 to 450,000, and the concert was broadcast worldwide to more than 500 million viewers. Roger Waters has garnered attention for his political views on many controversial subjects, including the Israeli-Palestinian conflict, BREXIT, Taiwan/China, and most recently Russia/Ukraine. His recent tours, US + THEM (2017/2018) and This Is Not A Drill (2022), are filled with political statements.
This Is Not A Drill – Live In The Round tour is being billed by Roger Waters as the first of his farewell tours with more than 40 tour dates in 2022 (originally scheduled to take place in 2020 but delayed due to COVID). My wife and I like to humorously refer to the 78 year old as Uncle Roger. The music icon has performed for more than 50 years and does not miss a beat. He is an artist, a craftsman, philosopher and thinker. The music of Roger Waters and Pink Floyd is the best-of-the-best and the live shows push the imagination to its limits.
The more than two hour concert was filled with stunning visuals and props, including layered video with political messages, lasers, the infamous inflatable pig and sheep, Nazi propaganda and a machine gun. Approximately 2/3 of the show (23 songs) is comprised of Pink Floyd material that has been altered to coincide with the thematics of the show. It begins with an audio announcement of Roger Waters saying, "if you're one of those I love Pink Floyd, but I can't stand Roger's politic's people, you might do well to f@ck off to the bar", followed by an eerie, haunting rendition of Comfortably Numb. The set is visually astonishing with massive screens dissecting the stage into four equal parts. The show is performed 'in the round', which is basically the stage being placed in the center of the arena as opposed to at one end. By the end of the first song, these massive screens raise into the air exposing the entire stage to the crowd. This ominous opening number sets the tone for the evening, painting a grim picture for humanity. Political messaging throughout the show included depictions of the last seven US Presidents being war criminals, crimes against indigenous people, inhumane drone strikes, nuclear threats, greed and corruption. A few personal highlights for me was the five song medley comprising the second side of The Darkside Of The Moon and the tribute to Syd Barrett including the song Wish You Were Here and Shine On You Crazy Diamond.
Here is my take on the political nature of Roger Waters. He is an expressive, theatrical artist with a calling for activism. His art is provocative and engaging. His beliefs err on the side of innocence, life and freedom in contrast to greed, control and tyranny. These beliefs are not surprising given that his father was killed in WWII when he was five months old. You do not have to agree with his positions in order to enjoy the music or concert. There is a great quote from Scott McCloud that says, "Learn from everyone. Follow no one. Watch for patterns. Work like hell.". We can be the maker of our own minds through personal experience and research. Opposing views may be neither right nor wrong, only different. We can learn about ourselves and improve the world if we understand this simple principle. FYI – this is not an endorsement for Roger's politics.
There are plenty of videos on YouTube if you missed the concert. Enjoy and treat each other with an open mind and heart!