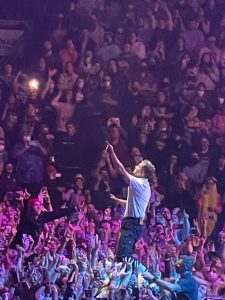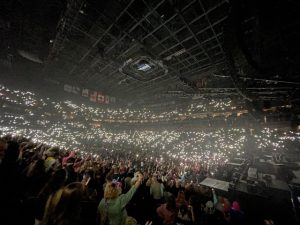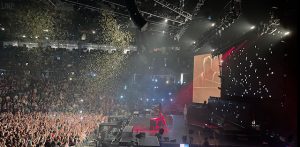 TWENTY ONE PILOTS AT NATIONWIDE ARENA
Out of 5
4.80
Band(s) – Alternative Rock / Alternative Hip Hop / Indie Pop /et al
Half Alive (opener)
Twenty One Pilots (headliner)
Date, Venue.
Oct. 28, 2021 at Nationwide Arena
Atmosphere.
Indoor arena show. High energy and the Skeleton Clique (the official fan group) were out in force. A predominantly younger crowd, but there were some older fogies/adults mixed in there too (yours truly included). This was the first of three nights that Twenty One Pilots are playing this week at Nationwide Arena. It was close to a sell out, but there were a few empty seats. The weekend shows (Friday and Saturday) will certainly be SOLD OUT.
The Venue.
Nationwide Arena, the home of the Columbus Blue Jackets, opens its doors to some major music acts throughout the year. Although built in 2000, it feels very modern and can handle the most demanding shows. The arena has a wide variety of food and drink options, including liquor stations and local and regional craft beers on tap. It's centered in the heart of the Arena District where you'll find dining and drink options, among other concert halls, minor league baseball, and major league soccer.
The Band(s).
Half Alive, the opening act from Long Beach, CA and signed to RCA records, is a trio that fuses sounds from the 60s and 70s – funk and pop – with modern indie pop. While this band was fun to watch, their live show was not quite as tight as I had hoped for after listening to their new album earlier in the day. They definitely had a great time on stage. It was fun, and lightly comedic, watching the backup dance troupe join them throughout their set performing choreographed routines. I would like to give these guys another shot, but it would need to be a much smaller-cozier venue.
Twenty One Pilots. Last night was my first time seeing this Grammy and iHeart Radio award winning artist. It will not be the last. The band was founded right here in our own backyard (Columbus) in 2009 by Tyler Jospeh (frontman, singer/rapper, musician) and two other individuals who are no longer members.  In 2011, the band reorganized into a duo consisting of Tyler and newcomer Josh Dun (drums, trumpet) and have been on an upward trajectory ever since. Per Wikipedia, "The duo also has nine No. 1 songs on the Alternative Songs chart, making them the sixth artist with most number-one songs on the chart, behind Foo Fighters and above U2.". [Check out their wiki page for their full story, the meaning behind the name, and a list of numerous accolades.] More often than not, bands that fit into the alternative hip hop/rock and indie pop genre leave me quite dissatisfied with their live performances. The songs are usually played note-for-note, exactly what you hear on the studio album, with little to no creativity brought into the live performance. However, Twenty One Pilots is a different animal altogether. Their performance is a well thought out and crafted show from start to finish. Album versions of their songs are not just recycled but brand new versions are revealed onstage. Much of the setlist on the 2021 tour is performed with the assistance of an incredibly talented live band to bring these newly imagined versions to life. Beyond the musical numbers, which included a tantalizing rendition of Elton John's Bennie and the Jets that morphed into one of their originals, the visuals and theatrics are among the best I've seen. Visually, it was better than any Trans-Siberian Orchestra show that I've seen and it's on par with the likes of Radiohead or Muse. Seeing Twenty One Pilots here in their hometown of Columbus is very special, to both the locals and the band. Tyler shared a beautiful moment with the hometown audience bringing up his baby girl onstage for the very first time. There are so many cool things to say about the show and I could go on and on, but I'll leave you with this piece of advice. If you associate the band with their popular (but arguably overly played) radio songs and you get that, "nah or it's just not my thing" kind of feeling, then I highly encourage you to reconsider and get your a$$ out to their show this weekend. This is the real deal and made for the arena experience. It must be seen live to fully appreciate. 
A few words to describe the show.
Arena Approved. Smoke Cannons. Lasers. Flames. A Campfire Onstage. Costumes. Energy. Stunning.
Would I see them again?
Yes, maybe this Friday or Saturday!
Link(s)
Half Alive
Twenty One Pilots