VOLBEAT AND GHOST AT NATIONWIDE ARENA
Band(s) – Heavy Metal, Hard Rock, Psychedelic Rock, Doom Metal, Arena Rock
Volbeat (co-headliner)
Ghost (co-headliner)
Date, Venue.
Feb. 7, 2022 at Nationwide Arena
Atmosphere.
Indoor show. Temps in the teens outside with the nasty salt-n-dirt ice slush lining the streets from last week's ice/snow storm. Inside was toasty and warm with the steady flow of booze and 'spirits' to inoculate against the winter blues. The majority of the crowd were 30-40 year old Ghouls (official name for fans of Ghost), donning their favorite Ghost t-shirts or 'spirited' dress-up. The show did not appear to be a sell-out, but the general admission arena floor was fully packed with both Ghouls and Volbeat fans.
The Venue.
Nationwide Arena, the home of the Columbus Blue Jackets with a capacity of 20,000 fans, opens its doors to some major music acts throughout the year. Although built in 2000, it feels very modern and can handle the most demanding events. It's centered in the heart of the Arena District where you'll find dining and drink options, among other concert halls and a minor league baseball and a major league soccer stadium. The arena has a wide variety of food and drink options, including liquor stations and local and regional craft beers on tap. They also advertise gluten-free options, but when asked for a gluten-free sandwich they said they haven't had any gluten-free buns. No worries! The staff is very customer satisfaction focused and they were determined to make it right. Management traveled to the depths of Nationwide Arena to find some frozen gluten-free buns, thawed them for me, and personally delivered the burger/fry combo to me at my seat. A++ for this service.
The Band(s).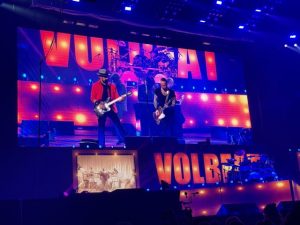 Volbeat, a Danish rock band formed in Copenhagen in 2001, is comprised of Michael Poulsen (frontman, guitar/vocals), Rob Caggiano (lead guitar), Jon Larsen (drummer) and Kaspar Bye Larsen (bass). The band has received a number of Danish music award nominations and wins, and one grammy nomination for Best Metal Performance for Room 23. Volbeat, however, is better known amongst the metalverse for their live performance. I have been familiar with a number of Volbeat songs over the years, primarily radio play, but I've never been able to call myself a fan until now. In 2015, Poulsen told Seattles KISW 99.9 FM, "When I sit and write, it's not like I'm locked into one certain style. I love metal, I love blues, I love gospel, country and punk. As long as it does something to me and I get that good feeling. I don't want to paint myself into a corner where I say, This has to be only a metal song. That's not what Volbeat is all about. I have so much respect for all those great metal bands who found their style, and you really don't want them to change anything. But when it comes to Volbeat, I wouldn't even say we're metal or rock'n'roll." This made total sense after seeing them last night. I had a blast picking out the various blues, country and gospel influences within the deep rooted 'hardcore' songs. They completely transformed the infamous Ring of Fire into an upbeat metal tribute to the great Johnny Cash. The music was tight, and the sound mix was perfect. Lead guitarist, Rob Caggiano (former member of the band Anthrax), was killing it with shredding guitar solos, and Poulsen's powerhouse baritone of a voice took over the arena. His baritone voice was somewhat off-putting to me when listening to their studio albums, but hearing it takeover and reverberate throughout the arena was pretty awesome. The icing on the cake for Volbeat's was their stage presence and design (lighting, visuals, etc.), which was nothing short of a top tier spectacle for an arena rock concert. The band brings a ton of positive energy to their show, and you leave feeling better than you did when you showed up. Although, I may not be rushing out to buy an album anytime soon, their live performance is well worth the money. I'd say they are pretty 'badass'.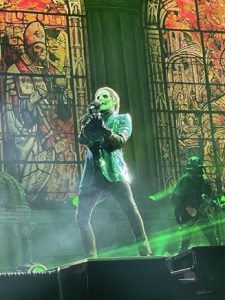 Ghost, is an eccentric, theatrical Swedish doom metal/prog rock band, formed in 2006, that is widely known for its onstage theatrics and costumes. The band consists of frontman vocalist Tobias Forge, otherwise known onstage as Papa Emeritus or Cardinal Copia (somewhat of an anti-pope figure), and seven Nameless Ghouls (the musicians). The band was formed out of Forge's love of horror movies and metal, and had always envisioned it being a theatrical experience. As the primary song writer and composer, the core of Ghost is Tobias Forge, while the lineup of Nameless Ghouls tends to change from tour to tour. Not much is known of these Nameless Ghouls, but it was confirmed by Dave Grohl of the Foo Fighters that he was a past Ghoul for at least one of the band's tours. Ghost has been nominated for six (won three) Grammis awards (Sweden's grammy equivalent), nominated for 3 Grammys (won one), and was named as metal artist of the decade (2010's) by Loudwire. I will leave it up to you to research Ghost's faith, religious beliefs, and what satanism means to them. Tobias said, "from a strictly Christian point of view, if that means believing in a physical, half-man, half-ram living in the underground, no, I don't believe in such a thing. I'm not the opposite either…. And you know, I'm sure in the eyes of the beholder, if I was put in front of true god-fearing Bible-thumpers, I would probably be regarded as a Satanist… just because I'm not a god-fearing Bible-thumper." He goes on to state that much of his early childhood draw to the devil was born out of rebellion to a domineering step mother and strict christian school teacher. Based on their image alone, pop culture typically jumps to the conclusion that Ghosts' sound is nothing but angry distorted guitars and vocal growling, but that is far form the truth. Ghost sounds more like a progressive/arena rock (metal) band focused on deeper, haunting beats – drawing inspiration from artists like KISS, Alice Cooper, Pink Floyd, and the Blue Oyster Cult. Check out Dance Macabre from their fourth studio album, Prequelle, or Cirice from their third studio album, Meliora. The costumes, theatrics, and stage design, include a massive cathedral-glass backdrop, mausoleums, and pyrotechnics, which were alone worth the price of admission. I absolutely love live music and theater and when these two things mashup, I'm usually in a state of utter bliss. The Ghost performance was excellent, but it's not without some criticism. Mainly, the vocals were a double-edged sword for me. The Good: the eerily, haunting vocal style (which feels more like a style of preaching given the context) of Papa Emeritus' voice enhances the theatrics of their live show. The Bad: this same vocal style persists, unchanged, for the entirety of the show. In fairness to Forge, he admittedly has never taken voice lessons and became the frontman by default when the other members all declined the lead role. Personally, I think an easy fix would be to include a lot more backing vocals and harmonies. I mean, why not include a small anti-church choir as part of the act? Then again, who am I to advise an international Grammy award winning band. All in all, if you want to be entertained and are not easily offended by the anti-religious tones, then check them out the next time they travel to Columbus.
A few words to describe the show.
Theatrical. Shredding. Visual. Occult-like.
Would I see them again?
Yes. And it was special to see both of these bands perform on the same night as co-headliners.
Link(s)
Volbeat (co-headliner)
Ghost (co-headliner)